After is a bit of a misnomer in this picture, this is really a "during", because there's still much work to be done in the living room. However, as you can hopefully tell from the picture, we've done a lot of work in this room. When we moved in, the room was a greenish yellow, with an accent wall of a lighter yellow, so the biggest help was just getting a new coat of paint up. We used Behr's paint and primer in one in Silver Screen to coat the walls, as I was going for that light shade of gray in Excel (yes, I'm such a geek, I know). I have to say, I love the Behr paint (and no, this isn't a paid advertisement). I was lucky enough to have 4 extra people around the day we painted the living room, and with 2 gallons and an hour or two, we had that plus the entry way done. See more pictures and details below.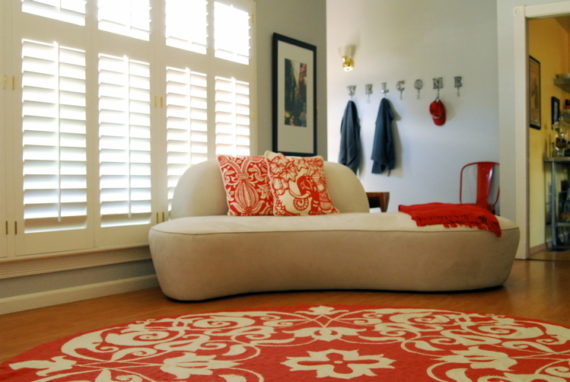 We moved in with the Ikea couches from our apartment, but quickly realized they didn't fit so well in the new living room. So we repurposed them (I'll post about that later) and ordered a new couch from Room & Board. I jazzed up the color of the room with the Isola Bella rug from Anthropologie in salmon, as well as a throw I had from Crate and Barrel's 2001 collection and Thomas Paul pillows. I added a bit of fun in the entry way with wire initial hooks from Anthropologie, spelling out "WELCOME" and for functionality, a red tolix chair is sitting in the corner.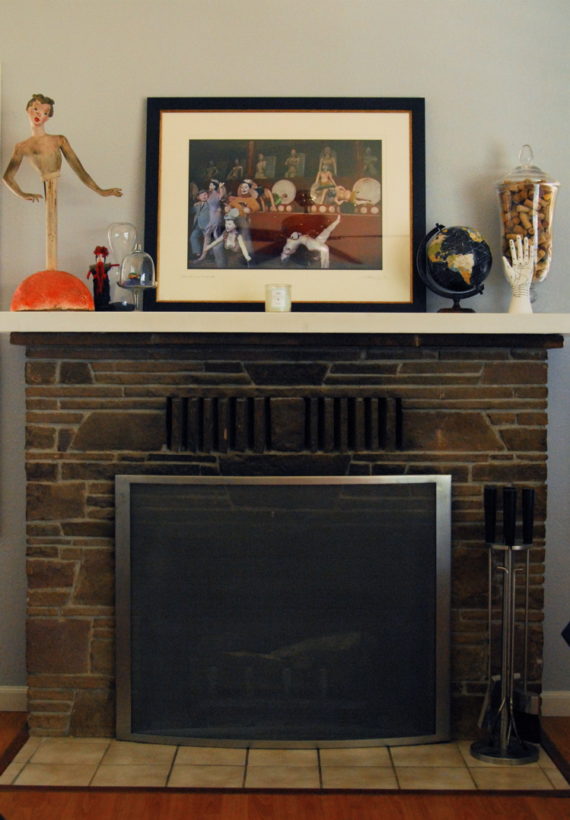 Over the mantle, I brought in a print my mom bought me for my 30th birthday, "Girls Just Want to Have Fun" by Tomas Spangler. Then I've started pulling in various oddball pieces from my collection of knick knacks – a doll from Mexico, my wind up tin frog in a cupcake stand, corks, a mini-mannequin, as well as a few new pieces, such as the hourglass (Target), the palmistry hand (Urban Outfitters), and a globe (Pottery Barn), which are all things that speak to my personality. One of the other big changes in the living room was to pull the brass fireplace screen off and replace it with a sleeker version from Crate and Barrel. I was on the fence when looking at this, thinking it might be too modern, but luckily, I took the plunge, bought it, and it's perfect!
My next steps are to recover the Ikea chair, maybe with sari fabric, and to start looking for some end tables. We also want to do some built-in shelving along the left wall, but the timing for that is still tbd.