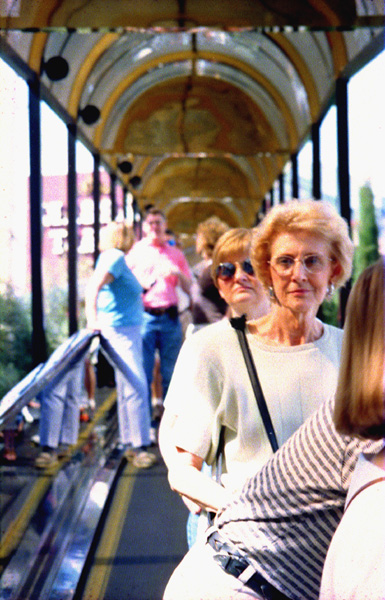 So this is a hard one to figure out where to start. It's really hard to lose someone who's been a part of your life for 30+ years. Who was always there, always supportive, always quietly in the background. And it's rather funny to describe my Nin as quietly in the background – because when I think of her, quiet isn't what comes to mind. Full of life, life of the party, ready to have fun – those are the things that come to mind. As I flip through pictures, and think about her more, quietly in the background, being supportive, saying "well, okay" with that smile that only she had – it wavered a bit, it was a little sly, but full at the same time – those are the things I see and remember now.
There are those stand out moments in my memory – dousing the Christmas tree in icicles, tinsel in a bunch, and she'd just smile and redistribute a little here, a little there. Playing "Bad Girl" on ZZ Top's Eliminator tape over and over and over again, dancing like crazy in her living room, until we fell over in the floor, laughing, rewinding, doing it all again. The cakes – oh! the cakes – always my favorite baked when I came home, and a chocolate pie or two to send me back to college with. Going to Danny and Linda's to swim, and later on going to her apartment's pool to swim — even though she didn't swim. She was really happy just to be there, in the moment, enjoying time with her family, with her grandchildren.
It's really hard to say good-bye to all of that, even if it's "for the best". Even if she has eternal peace, it's hard to not be selfish and say I want her back, as a part of my life. It's really hard to think of how hard her life was; how unfair the end was. Quite frankly, the whole thing blows, and it feels much better to say it that bluntly.
So, I'll try to remember "it is for the best". She's "in a better place". Along with my grannies, along with her sister, and countless others. She'll live on in my heart and in my memory, every time I hear "Bad Girl", every time I see some flamboyant pants, every time I make her caramel icing, noodle casserole, or turkey gravy with some yellow food color. And every time I see a pink sunset, I'll think of this past Wednesday, after her funeral, when we saw this angel in the sky, telling us it was a better place.