January 1, 2008
2007 was a hell of a year. Last night Raju and I reminisced about all we did and everywhere we'd been this past year. I logged 57,548 miles in the air — 46,605 of those with him.
January started off with a bang – I visited Raju's family for the first time in Bethesda, where we managed to sneak away for an afternoon and see the sights in D.C., then we flew onto Tennessee to see my family since we were on that coast already. We checked out the Biltmore as a possible wedding venue.

Anu and family in DC – our visit to the 'big pencil'

Everyone at Cafe 111 in Johnson City
February we hung out in Cali – celebrating our anniversary and continuing to follow the theme of the year — "think about wedding". I'm not sure when we finally set the date, but I was really happy to get that taken care of and quit hearing the questions of "when".
March had us flying back to the east coast for Kristen's wedding in Annapolis. Weddings are a tad more interesting when you're planning your own. Oh, that's a good idea. Hmm, maybe we could do something like that…
April we headed to Chicago, one of my favorite towns. However, this time it wasn't a stay on Michigan Avenue, instead we were visiting more of Raju's family – the infamous Raja mama I had heard so much about over the years.
In May I quit my job (yay!!!) of 2 1/2 years which sent me back to Tennessee to train the poor soul who would get to do my job for a while. It was nice to see family again since I didn't think I would see them until the wedding.
But then it was back again in July for a weekend of partying. Bob was celebrating the end of the 50s and Mom decided to piggyback on that celebration. Plus I got to surprise Dad since we hadn't told anyone we were coming – so we all got to have a good lunch together before we hopped back on the plane.
August we didn't travel — but everyone came to us! We had a wonderful time at our wedding, and a wonderful time leading up to it. Mom, Tammy, Bob, and Martin came out early so we could hang out and do fun things like go deep sea fishing, be tourists in San Francisco, and head down to Monterey to check out the special otter exhibit. Then so many others made it out for the rehearsal dinner and wedding on Friday and Saturday.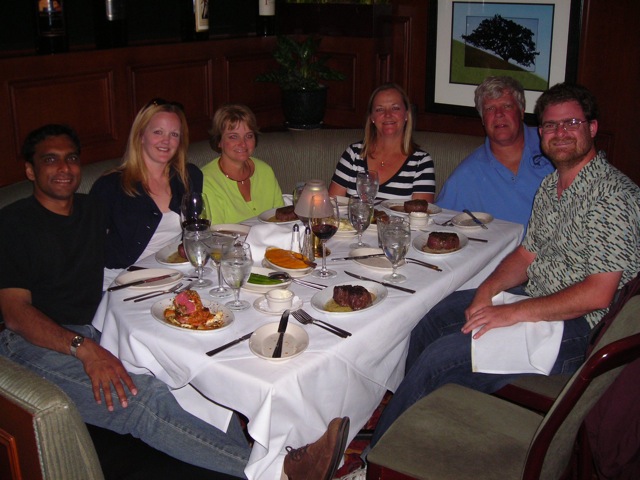 Everyone enjoying a fine meal at Ruth's Chris

Rhys takes the job of ring bearer very seriously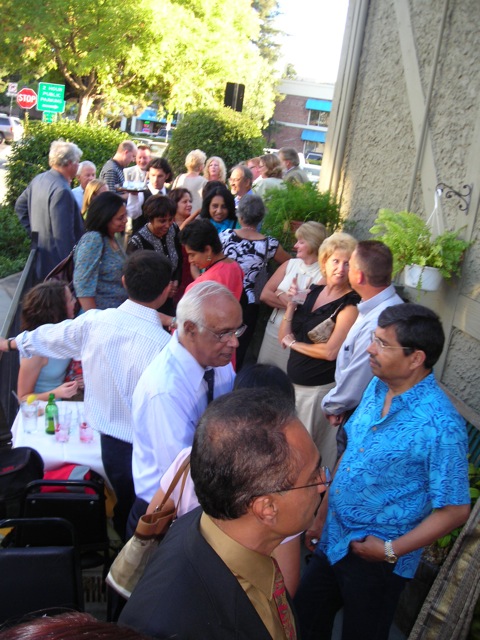 so many friends and family at the Rehearsal Dinner

the Best Man and Maid of Honor's toasts
But, that wasn't the end of the wedding festivities. September 8th we celebrated in Maryland with Raju's parents' friends and more family, and a bunch of my family and even my friend Angie were able to come up for the reception. I decided I liked dancing in the wedding dress much better — you couldn't see my feet in it to tell that I really couldn't dance. Two celebrations down and I think I'd only had two bites of cake — future brides, get your fill of cake during the tastings!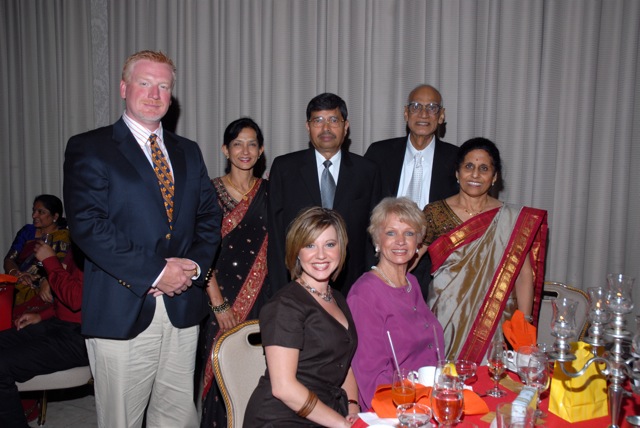 Brian, Love, Nin, Amma & Appa, and the Misras
October was the big trip. My friend Pappy came out to hang with Milo for a month, which was sooooo appreciated. I think Milo is still watching for him to come back through the door. Raju and I hit 7 countries (9 if you count airport transfers) and had a blast. We got married again, had a small reception again; my mom and Tammy got dressed up in saris. We were allowed into Singapore. We saw a big cat in Bandipur, India, along with lots of other wildlife. We weren't allowed to hold hands while wandering around Sharjah and had a blast in the sand dunes of Dubai. I froze in Rome until I finally bought a coat. We wandered the streets of Florence only to find ourselves at the Duomo over and over again. In Venice we ate and drank like gluttons and I ended up sick after walking the rainy streets at night. The Paris hotel luckily had the best shower and I was able to steam in it and feel somewhat better. We didn't get to see as much there, but we did check out Raju's Dad's neighbors' house as well as the top tourist spots of the city. In Zurich I was feeling much better — maybe it was the chocolate? We had wonderful fondue and enjoyed the waterfront before heading back to the States with a stopover in Frankfurt. God bless the Lufthansa first class terminal. By this time it was November, and for Raju's birthday we got to go out with his cousins to celebrate. The next day we were back home and happy to see the dog — happier than he was to see us. The whirlwind was over, back to reality. (If you want more details, click on the Honeymooning label below some of the other posts.)
I had just a couple of weeks to plan Thanksgiving dinner, but it turned out pretty darn good again this year. Again, we got to see Mom and Tammy (wonder how many miles they logged this year?) and we all just relaxed most of the weekend — and shopped.
A few more weeks and it was Christmas. I headed back to Tennessee. This year I actually got to head down to Chattanooga and do Christmas with Abby, Donald, and Gail. A grand time was had by all that night, as most can see from the pictures. The next night I got to spend some time with my cousins who I haven't seen in many years, and they hung around for Christmas Eve too. Lots of present opening, lots of food, lots of good times. Then it was back home to celebrate Christmas Day with my hubby. I didn't get a ring this year, but the present was just as nice — a new printer! So I've been playing and printing and can't wait to finally open that shop I've talked about for the past few years.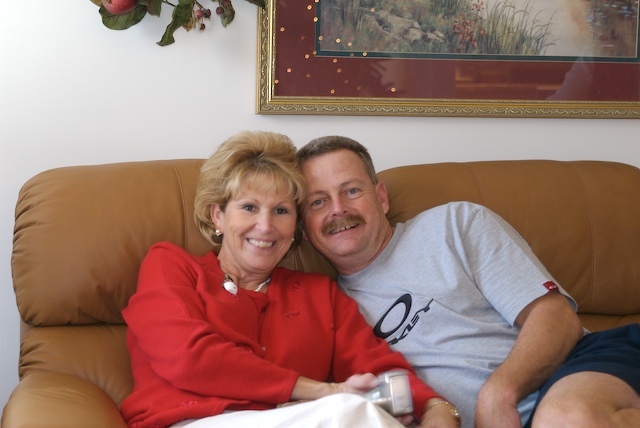 Tony and Linda cuddle on the couch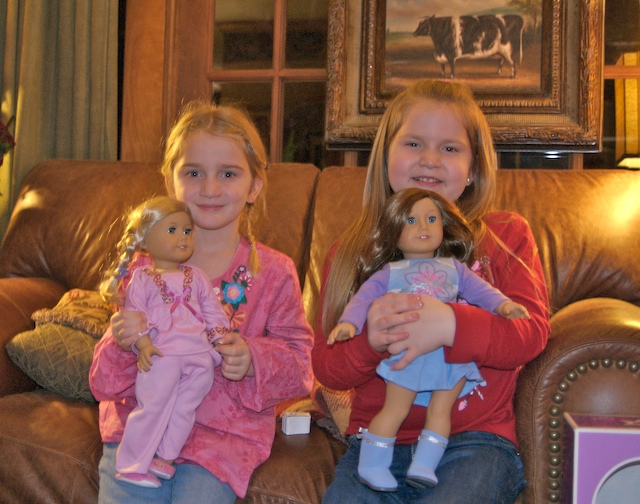 Emma and Olivia with their American Dolls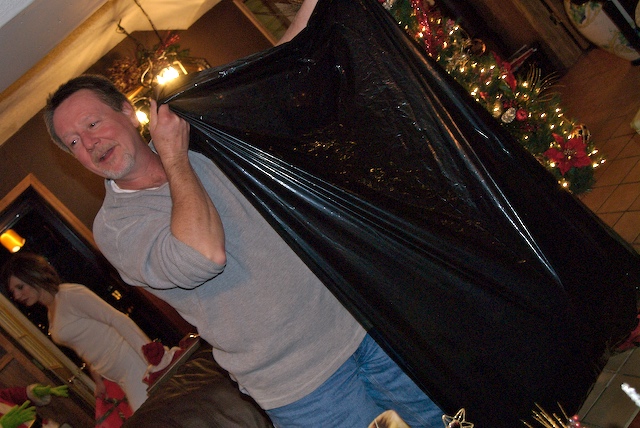 Dad demonstrating how large the trash bag is
To say 2007 was a great year is an understatement. I can only hope 2008 goes half as well. No hoppin' john for me today, instead we're celebrating UT winning their bowl game with carrots and onions (oh, and some beef, but I just realized today that carrots and onions are UT colors).
It's a good start to '08 for sure. Raju's headed out to walk the dog while I dig up the picts to go along with this post, celebrating one last day, for it's back to work tomorrow.
Thanks to everyone who made the past year so wonderful. Cheers!