August 16, 2012
As I'm beginning to think about what the next steps are for the kitchen, I realized I've never really posted any pictures of the updates we've made so far. While they've been minimal – a coat of paint, new appliances, little decor – they've still helped the kitchen come a long way from it's almost-not-functional sponge painted days.
Looking back at my pictures, I cannot believe on day two I had this much unpacked and organized in my kitchen. Rabbit jambalaya was calling my name, however, so I guess that's what got me started with getting this room unpacked first.

Me cooking rabbit jambalaya, trying to get used to the massive microwave encroaching on my stove space.
If you look close in that picture above, you can also see the lovely sponge painted walls – yellow with green on top. Blech! Now you understand why it only took 2 weeks for me to repaint this room.
The appliances, on the other hand, I lived with for quite a while. I learned to deal with the oddly-mounted microwave and super-low clearance on my stove for a while. Slowly my husband and I began to replace the appliances. First the dishwasher and refrigerator, and later the range and, yes, the hood! Finally, if I wanted to place a tall stock pot on the back burner, I could again!
While I did have to sacrifice some space on the countertop if I wanted to keep a microwave (which, I did), it wasn't really a huge issue as I didn't store too much in the deep, cavernous space under the angled cabinet. Plus, given that both my husband and I had our own apartments, we had two microwaves in storage at one point, so it't not like we had to find a new one.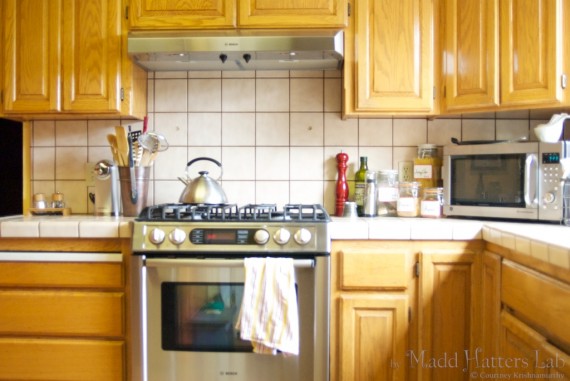 So what's next for this room? Luckily, the cabinets are real wood. So a lot of elbow grease from me, and I think these can be updated to a more modern color. My husband loves granite countertops, so we'll definitely be installing those in the near future. And the sink will be updated to a stainless steel apron-front sink, which I hope isn't too problematic to make happen.
The questions that remain are what colors and what type of backsplash. I'm partial to Heath Ceramics Little Diamond pattern tiles designed by Dwell. In a single color, they look like beautiful six-pointed stars, but in multiple colors they take on a Q*bert-esque look that makes me giggle a bit.
Last, extending the cabinet next to the refrigerator to the ceiling so it matches the others in the room is a must. Plus, it will give just a bit more storage for those things I don't use too often.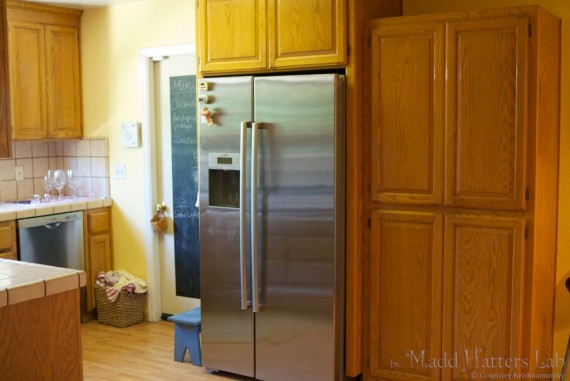 Now to start mocking up these plans, playing with the colors, and most important, get started! This was one of a few projects I wanted to tackle this year, and the year has quickly tick-tocked by.