June 1, 2011
That's right, two years. It feels like yesterday we were moving in, playing furniture roulette, and enjoying beer while sitting on the porch. Literally on the porch, because we hadn't dragged any furniture outside yet. I guess in some ways things haven't changed. I'm still playing furniture roulette, but I'm getting closer to achieving the vision I have in my head.
For our side yard, that vision has changed a bit over the two years. One of the slightly-awkward things about this house was the fact that the deck and backyard were off of the master bedroom. There's a sliding glass door in the family room/dining room into the side yard, but when we moved in the side yard was so lackluster that I couldn't imagine anyone wanting to hang out there. A strip of dead grass, lots of concrete, and fenced off from the back yard, it certainly wasn't inviting. Since it was off of the dining room, I decided that we would put the dining table in the side yard, and dress it up a bit. This was my original plan for the space: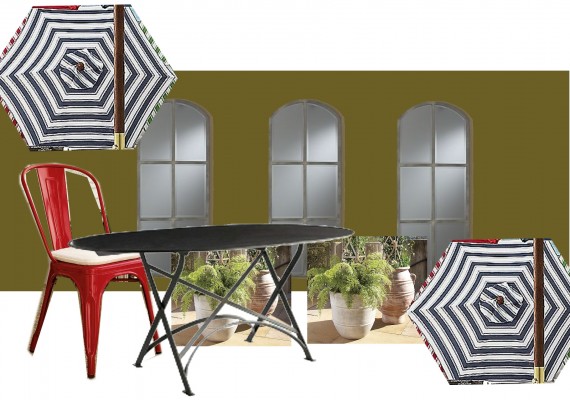 And after some work, this is what I ended up with: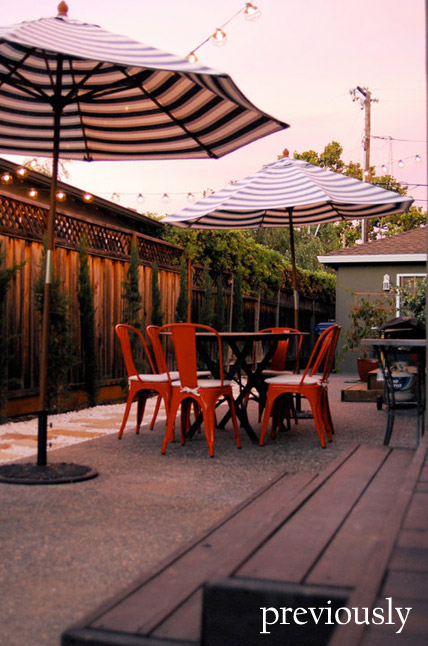 Beautiful, no? I was absolutely in love with the way it turned out, but functionally it didn't work at all. The patio itself is only 10 feet wide in the side yard, and I had kidded myself to think that I could squeeze a table this large and chairs into the space. It felt a tad cramped, and if your chair was on the tree side, you were likely to scoot back and teeter-totter on the rocks. So I moved the dining area out to the larger concrete pad off the back deck, which worked oh-so-much better. You could hear the waterfall and fountain and enjoy views of the garden. But it left me with the conundrum of what to do with the side yard yet again. After some thought, I decided to add another seating area, so people could sit and chill out with me while I grilled up good eats.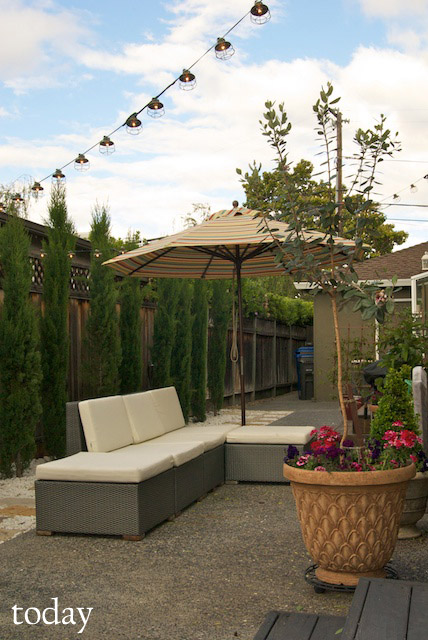 Looking at these two pictures, I cannot believe how much my Italian cypress have grown in one year. Just this weekend I was at Lowe's looking for some to plant in front of the house and wondering why they were so scrawny. But I digress, we're talking about the side yard transformation.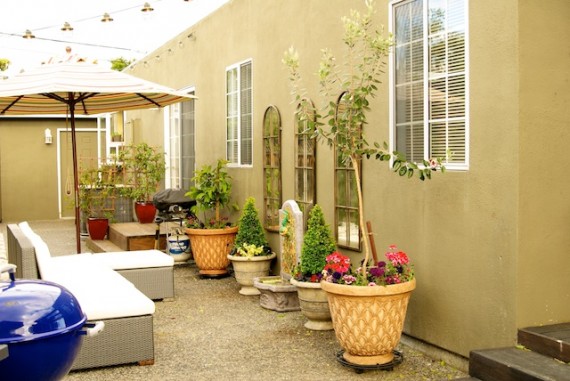 I love this area now and actually want to sit out here, drinking wine and pontificating deep, profound thoughts. Pinky out of course.