January 12, 2009
No, not our U.S. Treasury – treasuries on Etsy.com.
First, my "Temple Door, Belur, India" photograph from the Architectural Details series was featured in Righteousnightowl's Express Your Secret Self treasury, which was full of fun and funky pieces, including a purse with the Virgin of Guadalupe and a technicolor octopus sculpture that I love.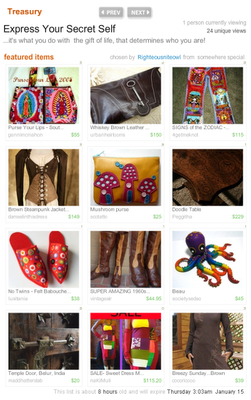 Then, Missgaylee put together an Esty Ozdessy with pieces that are right out of Oz. My "Yellow Brick Road" photograph from Postcards from Another Reality really stands out as it's the only non-green-hued image in the bunch.