August 26, 2010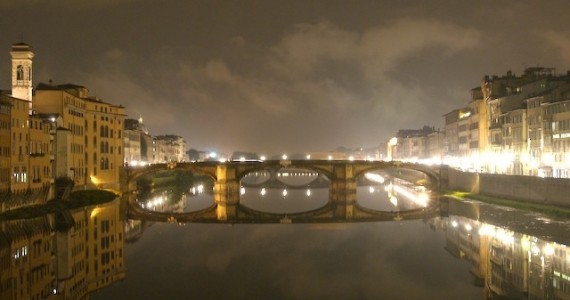 from the Ponte Vecchio, Florence
It had been a jam-packed day in Florence. We had walked the city, been to the Museo Galileo, stood by the River Arno watching the rain fall, debating on whether or not to continue on. The clouds parted, and we started across the Ponte Vecchio, over to Boboli Gardens, where I was enchanted by cats, enamored with landscapes, and in love with every last architectural detail I could find there. We had arrived a little out of sorts, due to the rain, but left happy, smily, go lucky.
We ducked into a small courtyard, and had a bite to eat, and more than a sip to drink. It started to sprinkle, but our bellies were full, so we walked arm in arm back toward the hotel. As we neared the center of the Ponte Vecchio, we stopped, breathtaken by the lights shimmering on the river and the wet night. That's when I knew I had to get this picture.
No tripod in hand (but really, when do I ever have one of those around), I sat my camera down on the edge of the bridge, straps wrapped tightly around my wrist, for fear of knocking it over the side. Snap once. Snap twice. Third time's a charm!